SALES
Every year we release a limited number of alpacas for sale. These can be pet boys, pregnant and empty ladies or weanlings. Prospective studs really need to be something special therefore they very rarely come up for sale.

We really recommend anyone interested in owning alpacas or adding to their herd to come visit our farm to decide what is right for you without any obligation to buy.

We breed alpacas for the love of it and want nothing more than for our animals to go onto fabulous loving homes. With that in mind we offer a full after sales service with recommendations, advice and support as needed.

Please contact us to for an up to date available sales list. Additionally we have an annual shearing day at the start of the Summer whereby everyone is welcome to bring their alpaca's to us to get sheared by the experts (please give us lots of notice though).
STUD COVERS
We are proud at Ballymac Alpaca to have award winning fabulous studs standing over the herd that we are willing to offer out for a limited number of stud covers.
Houghton Prometheus
(Solid Mid Fawn)
Prometheus hails from astounding genetics with his grandfather being the infamous Cambridge Navigator of ACC whom himself has left an industry changing legacy for the future of alpaca breeding within the UK.
His mother (also owned by us) also boasts an impressive career in the show ring with many notable show results including Supreme Champion and Reserve Champion rosettes and would be classed as one of our top breeding females.
Prometheus has been quick to follow in the family footsteps as the first show he attended he received stunning commentary from the judge and ended up taking Fawn Champion and later went on to win Supreme Champion Huacaya at the NIAG 2019 show.
Prometheus boasts an extremely dense, fine fleece and uniformity of fleece micron from his mid-section to his top line extending to his top knot. His most recent fleece statistics: 18.3 micron, 4 SD and 99.1% CF.
At two years old this is Prometheus's first year working, duties that he is taking very seriously.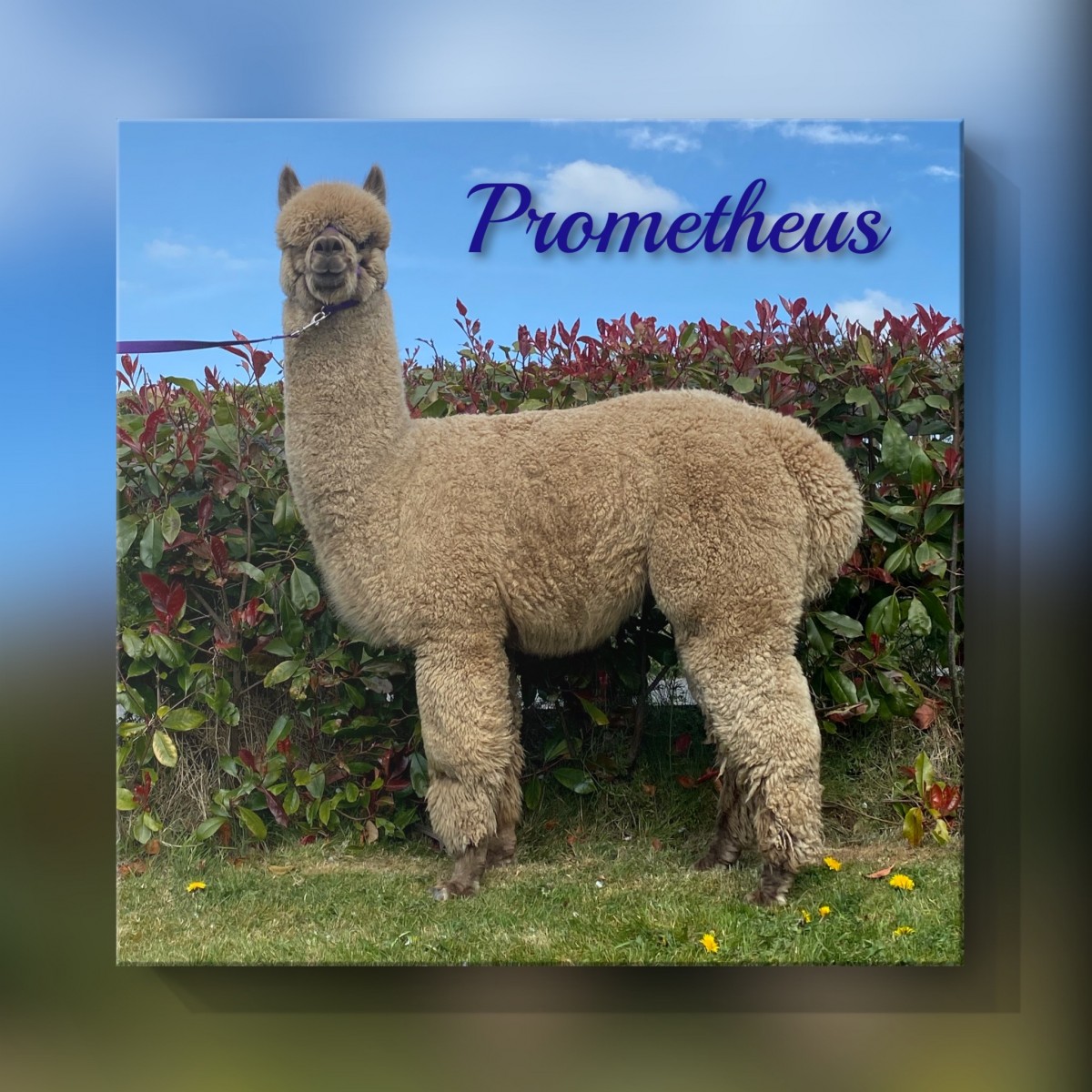 Hushabye Farm Cassius Clay
(Solid Black)
Cassius is the 2018 All Ireland Champion Black Huacaya after successfully showing in the Southern AAI and Northern NIAG shows. He comes from infamous award winning black genetics by being the grandson of Lillyfield Jack of Spades and Popham Thunder. He has a very fine dense fleece on a superb confirmation as well as the desirable perfect head type.
Atkins Julius
(Medium Fawn)
Julius is a truly outstanding herdsire with a lineage packed with royal genetics including Snowmass and Accoyo. He exudes presence and style, flaunting an incredibly macho phenotype and a highly advanced, super soft fleece that has excellent crimp and is packed with density. Julius is a proven herdsire with a number of cria on the ground. All of his progeny exhibit his superb phenotype and enviable fleece traits. His cria have achieved a lot of success including one going on himself to stand stud in Seafork, NI and a daughter being awarded the AAI 2017 Show Supreme Huacaya Female.