STUD COVERS
We are proud at Ballymac Alpaca to have award winning fabulous studs standing over the herd that we are willing to offer out for a limited number of stud covers.
Click
HERE
for Stud Covers Terms and Conditions.
HOUGHTON PROMETHEUS
(Solid Mid Fawn)
Prometheus desends from astounding genetics with his grandfather being the infamous Cambridge Navigator of ACC whom himself has left an industry changing legacy for the future of alpaca breeding within the UK. His mother (owned by us) also boasts an impressive career in the show ring with many notable show results including Supreme Champion and Reserve Champion rosettes. Prometheus has been quick to follow in the family footsteps as the first show he attended he received stunning commentary from the judge and ended up taking Fawn Champion and later went on to win Supreme Champion Huacaya at the NIAG 2019 show. As 2019 Northern Ireland Supreme Champion Prometheus boasts an extremely dense, fine fleece and uniformity of fleece micron from his mid-section to his top line extending to his top knot which he is passing on to his progeny.
HEMICCOYO MATRIX 2 of URCUCHILLAY
(Mid Fawn)
Matrix is an amazing  herdsire having produced multiple Champion winning progeny in all colours. Imported from New Zealand from the infamous Alpine Fibre's Brutus (Peruvian Hemingway) line. We are proud to have an array of his offspring as some of our best breeding females and males. At 13 years old his fleece has retained its outstanding uniformity and fineness with minimal change in the last nine years of fleece testing.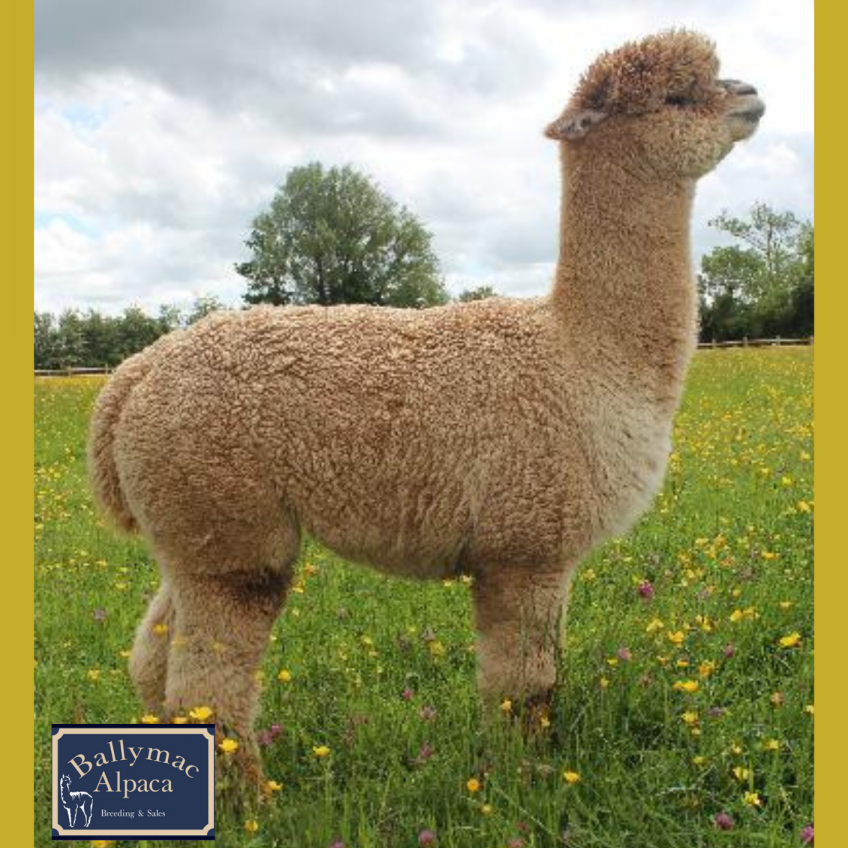 BOZEDOWN MAJOR LEAGUE (White)
Major League hails from some impressive genetics, sired by the world-renowned multi-championship winning male Bozedown Ascendant. His dam achieved Reserve Champion white female at the BAS National Show 2017. This makes this male a solid contender for anyone looking to improve their light/white section of their herd. Standing on a very robust frame he carries excellent coverage throughout. He is gifted with a very true to genetic type head style which he received from his sire. His fleece is showing a great degree of brightness matched with a high level of density within the staple. All this is topped off with a low micron carried across his frame and well into his extremities. Unfortunately Major League missed out on his show career due to the pandemic.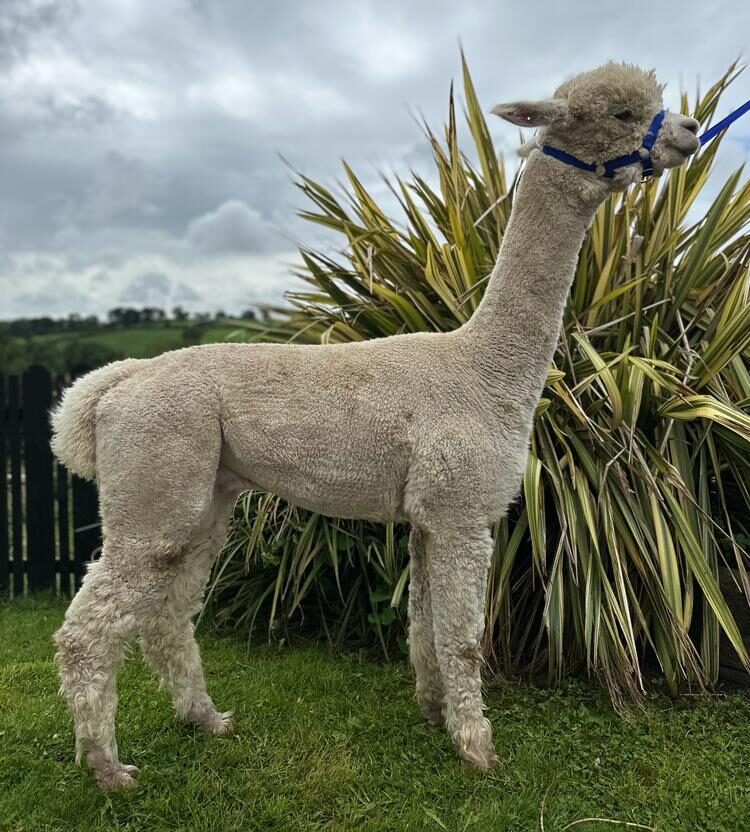 Below is a picture of his full sisters fleece;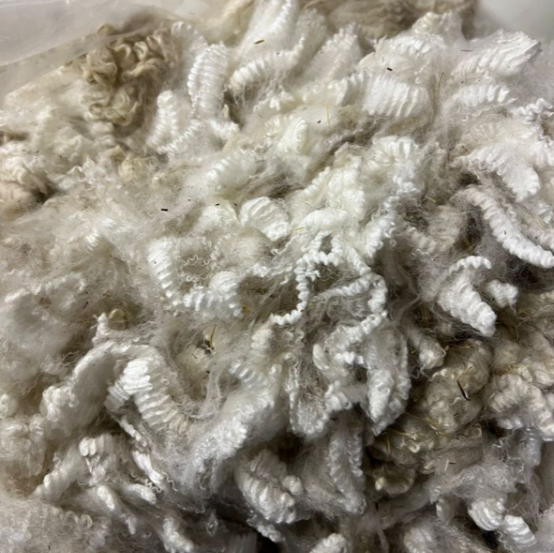 POPHAM APPALOOSA SHEER MADNESS (Leopard Appaloosa)
We purchased Sheer Madness at eight weeks of age as his fleece quality was too good to be true. His sire is multi-champion Popham Havengore who has passed on his density and style with a great degree of organisation rarely found in an appaloosa male. This was apparent when he received Champion Best Appaloosa Huacaya in the 2022 Northern Ireland Championship. Sheer Madness will be released for a very limited number of outside mating's.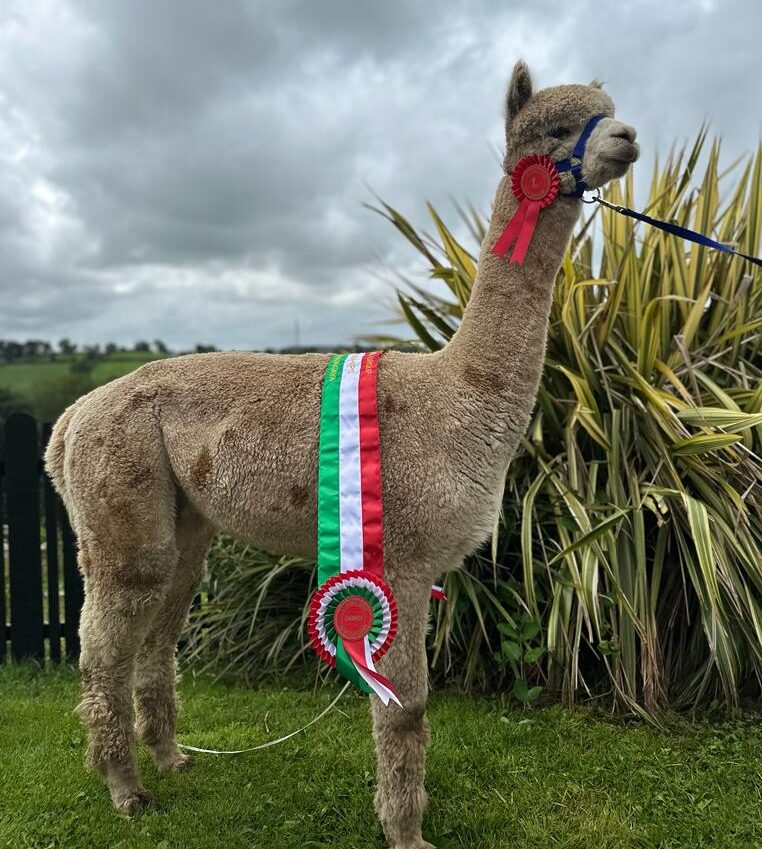 INCA GREY ORION (Mid Silver Grey)
Orion stands on a compact frame while displaying a great degree of bone density which is a must here at Ballymac. As we dive further into his fleece we see an amazing level of uniformity throughout the mid-section leading well into the extremities. A trait that is not seen in many grey alpacas. This is complimented with a low micron of 16.7 and a SD of 3.4 on his second fleece. To top it all off he is producing grey progeny from non-grey females, which is also a rarity in this quality of male.