STUD COVERS
We are proud at Ballymac Alpaca to have award winning fabulous studs standing over the herd that we are willing to offer out for a limited number of stud covers.
Click
HERE
for Stud Covers Terms and Conditions.
HOUGHTON PROMETHEUS (Solid Mid Fawn)
Prometheus hails from astounding genetics with his grandfather being the infamous Cambridge Navigator of ACC whom himself has left an industry changing legacy for the future of alpaca breeding within the UK. His mother (owned by us) also boasts an impressive career in the show ring with many notable show results including Supreme Champion and Reserve Champion rosettes. Prometheus has been quick to follow in the family footsteps as the first show he attended he received stunning commentary from the judge and ended up taking Fawn Champion and later went on to win Supreme Champion Huacaya at the NIAG 2019 show. As 2019 Northern Ireland Supreme Champion Prometheus boasts an extremely dense, fine fleece and uniformity of fleece micron from his mid-section to his top line extending to his top knot.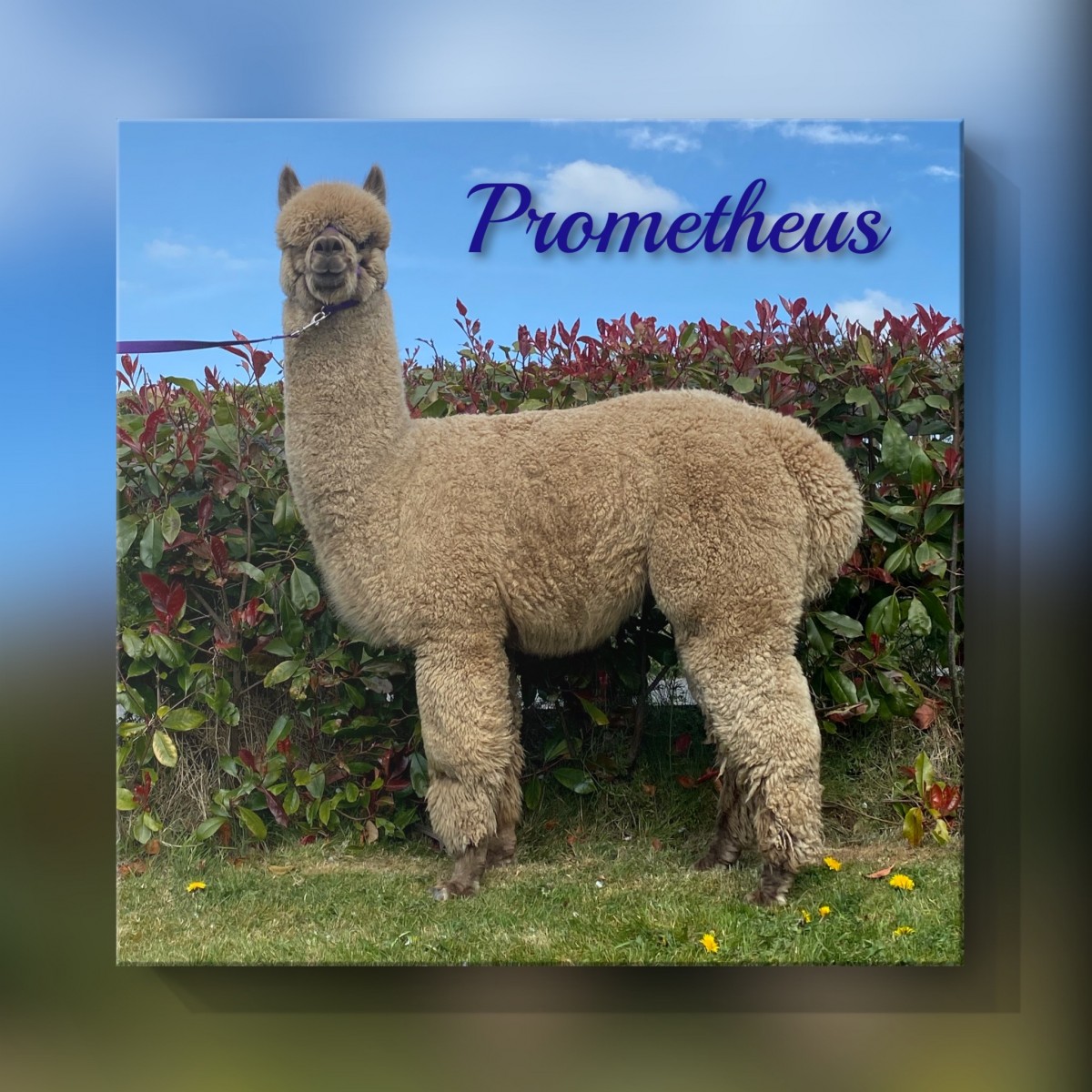 HUSHABYE FARM CASSIUS CLAY (Solid Black)
Cassius is the 2018 All Ireland Champion Black Huacaya after successfully showing in the Southern AAI and Northern NIAG shows. He comes from infamous award winning black genetics by being the grandson of Lillyfield Jack of Spades and Popham Thunder. He has a very fine dense fleece on a superb confirmation as well as the desirable perfect head type. Cassius is a proven herdsire. HIs cria typically copy his conformation and colour while retaining that teddy bear head with signature fluffy ears.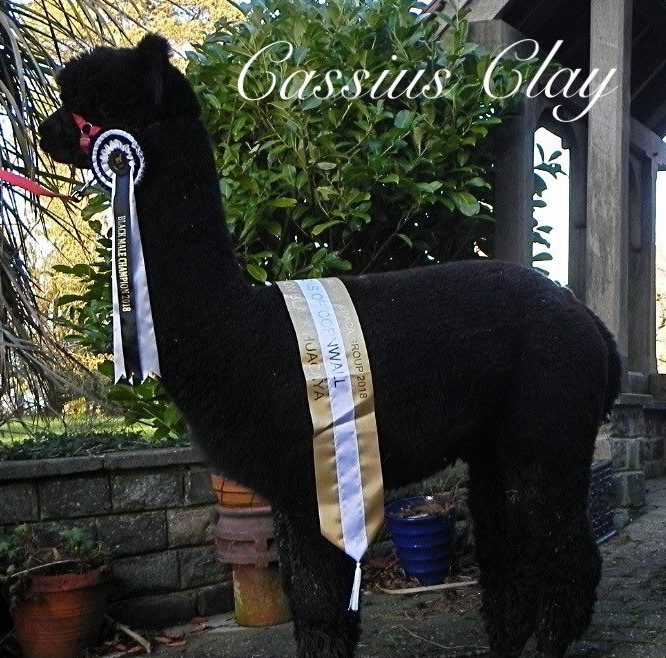 HEMICCOYO MATRIX 2 of URCUCHILLAY
(Mid Fawn)
Matrix is an amazing Champion herdsire having produced multiple Champion winning progeny in all colours. Imported from New Zealand from the infamous Alpine Fibre's Brutus (Peruvian Hemingway) line. We are proud to have an array of his offspring as some of our best breeding females and males. At 11 years old his fleece has retained its outstanding uniformity and fineness.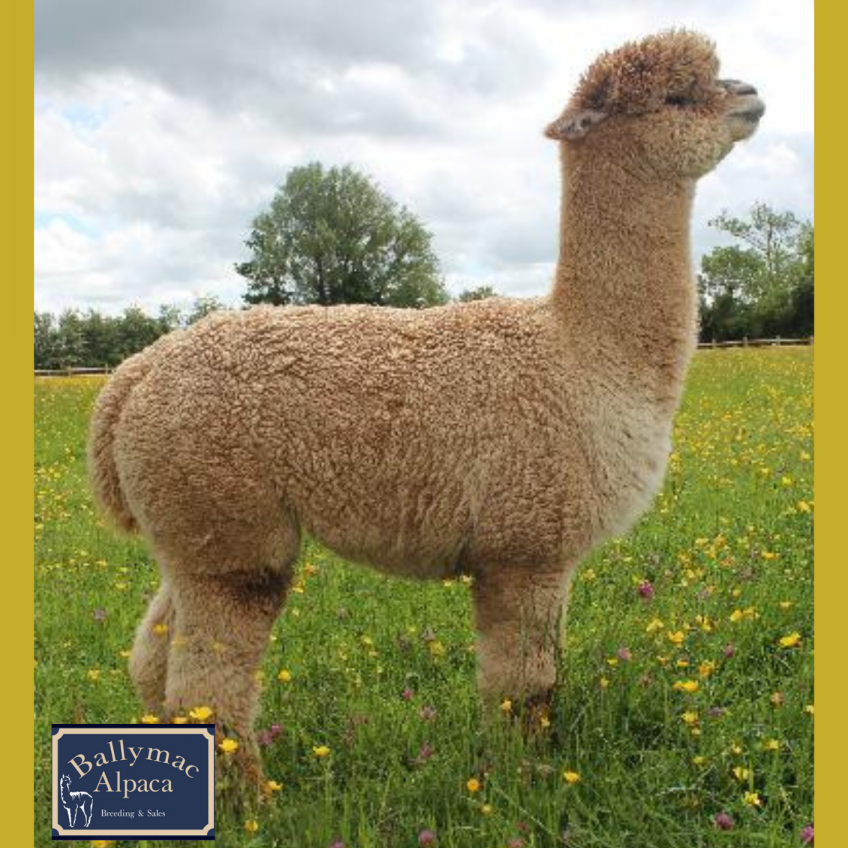 URCUCHILLAY LORENZO
(Beige)
Lorenzo is an absolutely stunning male who has done amazingly well at every show he has been entered into. In halter shows he has won every class he has been in and went on to win two Championships.
He has a gorgeous uniform, fine and dense fleece on a macho frame. In 2020 he placed very highly at the National Fleece Show beating off some very stiff competition. Lorenzo welcomed his first cria in 2021. Their quality is exceptional and all females have been retained by us to use in our breeding programme, one of which is a leopard appaloosa.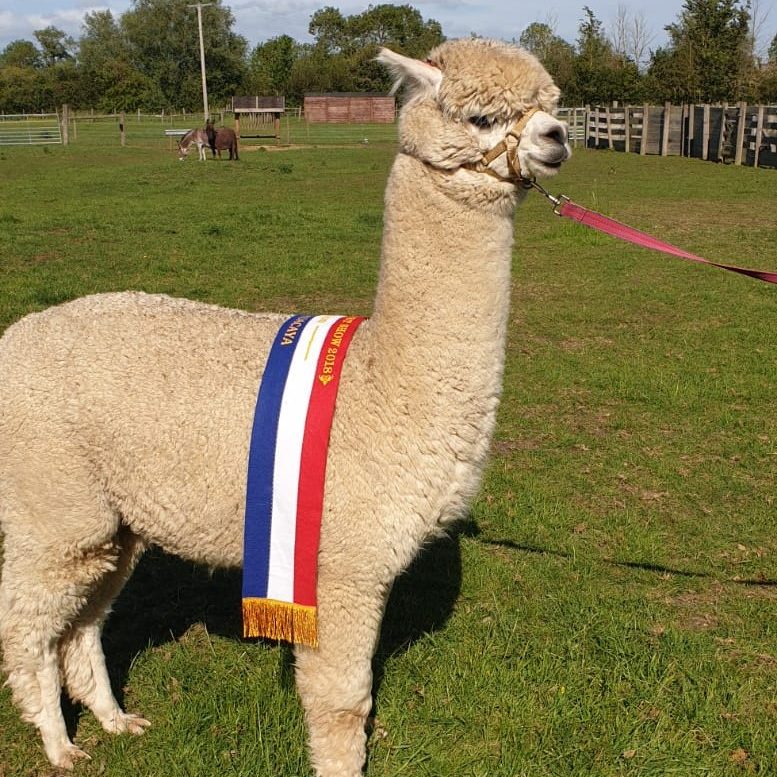 URCUCHILLAY SMOKIN' ACE
(Mid Grey)
 Smokin' Ace has a super soft handling fleece that shows a fine high frequency crimp that is even through his saddle and extremities. He is a striking grey colour with a commanding presence and amazing conformation. All of his offspring grow to command attention in the paddock.